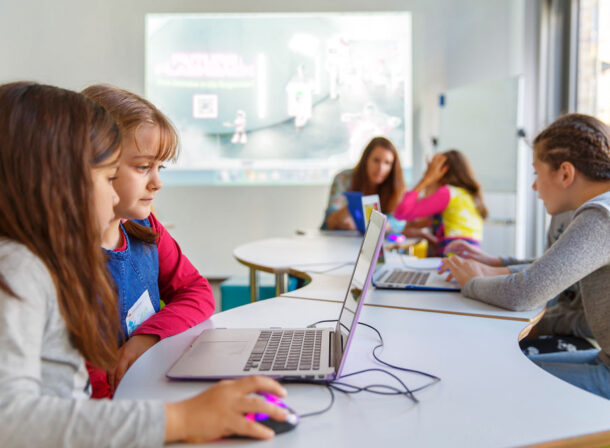 Europe's favourite digital skills initiative transitions to online learning and brings with it an exciting line-up of new developments.
Fast Fact: Did you know that *43 percent of Europeans lack basic digital skills with more than 71 million European students needing to develop their digital learning? Startling facts like these, and many more, is what lead SAP, Haus des Stiftens gGmbH and TechSoup Europe to the introduction of Meet and Code in 2017. Bigger and better, Meet and Code is back and kicks-off with some exciting additions for its new virtual program for 2020 and beyond.
Let the online learning begin
In 2019, Meet and Code hosted 1,200 code events and empowered +56,000 youth. And this year's virtual Meet and Code promises to be even better, starting with the addition of ten new countries and an extended two-month implementation period commencing in September.

As of 1 June, non-profits across Europe can apply for microgrants to organize virtual events that empower youth aged 8 – 24 with 21st century skills. Taking place across 35 European countries, participants can apply online and have until the first week of September to receive grants of up to 500 Euros.
Let the online learning begin
"It's amazing how quickly society can adjust. Just six months ago, things that seemed inconceivable are now an integral part of our daily life," says Alexandra van der Ploeg, Head of Corporate Social Responsibility at SAP. "As Charles Darwin once said – 'It is not the strongest of the species that survives, nor the most intelligent that survives. It is the one that is most adaptable to change' – and this year's virtual Meet and Code event is a shining example."

Each year Meet and Code provides funding to enable free participation to children. This year's virtual program will now reach an additional ten European countries thanks to the help of the program's newly appointed partner, Germany's Federal Ministry of the Interior, Building and Community (BMI). Ongoing guidance will also be provided to implementing partners with material and toolkits to support online teaching. In addition to this, five pilot countries will receive access to the vast knowledge and expertise of SAP employees in Meet and Code's first-ever corporate volunteering opportunity. Volunteer time and experience will assist local events in Germany, Ireland, France and Bulgaria, adding to the overall learning experience.

**Since 2000, the e-learning global industry has grown by 900 percent and is expected to triple in size by 2025. Adding to this, Anna Sienicka, TechSoup Vice President for Europe believes that today, more than ever, we need to instil digital literacy skills.

"One of the potentially positive consequences of the Covid-19 crisis, and the lockdown that has followed, is that society has been forced to come-up with better ways of doing things – and this year's Meet and Code has clearly returned with full-force as we continue to support the initiative's mission by making a difference through the power of technology."
Code with Purpose
Throughout 2019, Meet and Code organizers were encouraged to compete for 2000 Euros prize money by coordinating events in four selected categories; Community, Diversity, Girls do IT! and Code for the Planet. This year will see the addition of a new category, called 'Code for Europe'.

"Meet and Code provides digital experiences for our youth, it fosters interactive group learning and above all, is about unity," says Clemens Frede, Management Board Member of Haus des Stiftens. "For the love of a united Europe, the new category illustrates the need to work together and help overcome EU digitization challenges. Closely linked to the United Nations Sustainable Development Goal (SDG) #17 – Partnerships for the Goals – the award seeks to highlight partnerships that provide safe and responsible online media use, looking at ways we can bring different nationalities & youth together, closure of fake social media accounts, tackling disinformation and combatting fake news."

Echoing the new award category closely linked to SDG #17, Alexandra van der Ploeg adds, "Through Meet and Code, SAP and partners can help accelerate commitments to the UN SDGs. To kickstart this year's all-new virtual program we are excited to welcome BMI, and notably their active involvement and participation in engaging ten additional countries as part of the EU Presidency in July. Together, through our strategic partnerships and collaborations, we can take massive strides in conquering Europe's digital divide."

For further information about Meet and Code, visit www.meet-and-code.org or connect on Twitter, Facebook and Instagram using #SAP4Good #meetandcode and #codeEU.
Please follow and like us: