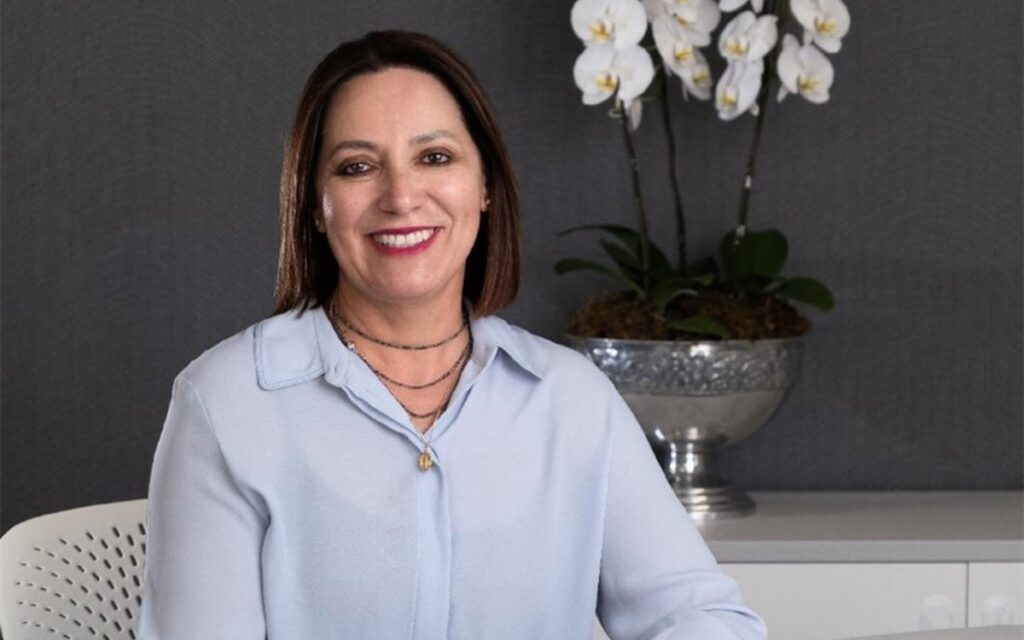 SAP's first female Managing Director for Africa, Cathy Smith, was recently featured in CIO Magazine for their 10 Most Successful Women Leaders in Business 2022. Here's what she had to say:
Tell us about your journey as a business leader. What challenges did you have to overcome to reach where you are today?
No career journey is easy. It is also not linear. Progress and success come from working hard every day, embracing lifelong learning, and having a north star. I like to call myself "a late bloomer" in that I wasn't one of those leaders who shot up the ranks in my twenties. My road to success had many twists and turns.
It began with an opportunity to become a programmer. To this day, the lessons I learnt from coding are still relevant. It taught me to listen, really listen, to understand the needs of my customers. It taught me to be creative and to find new ways to solve problems. These are skills I use daily to navigate the fast-changing ICT landscape and the requirements of my role as MD.
I spent 23 years working for IBM and I like to think I had several careers over that period because I had the opportunity to work in so many different parts of the business. During that tenure, I held the position as the Head of HR, a role that taught me a great deal about people dynamics and about how to manage different styles and personalities to get the best results. While I loved that role and the many benefits that came with it, including the corner office and personal assistant, it was at that time that I realised I was missing one core element to round off my skills. I had never been in sales, the heartbeat of so many organisations.
The opportunity to build that competence excited me and I took a role in the sales team. Some might have seen this as a step backwards in my career as the role was not nearly as senior as the one I had held in HR. However, this is a great example of why career progression is a series of moves, much like a chess game. It is sometimes the lateral or even backwards moves that set you up for ultimate success. I very quickly learnt the ropes in that role and was soon promoted to head up the public sector sales team, another fantastic learning journey. That experience pre-empted my next career moves, including heading up the Cisco business for Sub-Saharan Africa and now my role as MD for SAP in Africa.
Being MD has allowed me to draw on all my years of experience, from sales and operations to business development and HR. Each of those former roles provided me with the building blocks to be able to take on the overall responsibility for a highly complex organisation, to have an end-to-end understanding of how everything fits together and how to make an impact.
I don't have any regrets from my career journey. Of course, there were tough times. In my early days as an applications engineer, I was literally on call 24/7. If a system went down, I had to physically drive there to find a solution. The notion of remote work and virtual meetings simply didn't exist at that time. I remember many nights of driving into town to attend to a system when I was a young mother. I often felt torn between my personal responsibilities and my work responsibilities. I think that has been a constant theme in my career, as it is for many women. We wear many hats and it's a constant juggling act to keep everyone happy. If I look back now, I would not have made as many family sacrifices as I did. I now know that they weren't necessary and that I could have handled those demands differently, but that knowledge only comes with years of experience.
People often ask me if my journey has been more difficult because I am a woman or more specifically a woman of colour. I think I have been very fortunate. I have worked for organisations that respect diversity, I have worked for managers who recognised hard work and who have offered mentorship and opportunity. That said, I appreciate that the ICT industry can be a very tough environment for women. It is male-dominated, there are established norms – like doing business on the golf course or down at the bar after hours – that don't always fit with our own values or our personal commitments. I've had to navigate that dynamic and, as I grow, I have come to learn that there needs to be a balance.
Leading an organization comprised of so many different types of people require me to have an enormous amount of empathy, to understand what drives behaviour and to be firm or flexible when needed. These skills develop over time and continue to make me a better leader every day.
Tell us something about your company, its mission and vision.
At SAP, we strive to help the world run better and ultimately improve people's lives.
Over the past 47-years, we have enjoyed a track record of providing quality and innovation and today, we have over 230 million cloud users, more than 100 solutions spanning all business functions, and the largest cloud portfolio of any provider. In fact, 77% of the world's transaction revenue involves an SAP system. Our team of 102,400 employees from 140+ countries are dedicated to assisting every customer to become a best-run business and a frontrunner in their industry. After all, it's the best-run businesses that make the world run better.
We turn customers' businesses into intelligent enterprises using machine learning, Internet of Things, and advanced analytics technologies. It is our end-to-end suite of applications and services that empowers them to operate profitably, adapt continuously, and make a difference.
While SAP is the market leader in enterprise application software, I believe that it is our deep sense of purpose that truly sets us apart. While our technology enables our customers' digital transformation for success in the fourth industrial revolution, at the heart of everything we do is a constant drive to ensure that no one is left behind. And nowhere can we make more of an impact than in Africa. As such, one of SAP's key objectives is to equip the continent's youth with the skills necessary for employability. This is how we help improve people's lives.
Enlighten us on how you have made an impact in the business niche through your expertise in the market.
The ICT industry is complex, demanding, and at times, cut-throat. The culture also tends to be skewed towards more masculine traits, which are present in both men and women. This often means that women are forced to adapt their natural style to succeed.
In South Africa, the industry remains largely male-dominated, especially the middle management layer. This cannot continue. It is only a matter of time before a change is forced. The status quo is being challenged by customers' insistence on something different; the rise of new companies, and the new generation of workers who refuse to put up with the workplace behaviours and practices that used to prevail. Nowadays, with programmes like Broad-Based Black Economic Empowerment, employers also can't hire as many males as they used to.
However, it is good leadership that will drive this change forward. As SAP's first female leader in Africa, my mandate is to inspire a culture of leadership, high performance, and accountability. Most importantly, I aim to show other women, who tend to be put off by the prevailing narrative, that there is indeed a place for them in this industry.
Undeniably, technology is playing a significant role in almost every sector. How are you leveraging technological advancements to make your solutions resourceful?
Today's businesses need to be able to gather enormous amounts of data from a variety of sources (inside and outside of the organisation), combine the data to discover interesting patterns and correlations and make decisions based on these findings. This is made possible by merging existing concepts like ERP and CRM with newly feasible and viable technologies such as Big Data, Machine Learning and Data Intelligence on one coherent platform.
At SAP, we call an organisation that does this The Intelligent Enterprise and believe that this represents the second wave of digitalization. It has been a fundamental part of our business strategy for 2019/2020 and beyond, locally here in Africa and internationally.
Every enterprise needs to develop new business models to avoid being disrupted, gain efficiencies, fund innovation, and transform mission-critical systems without business risk. This is why we recently announced a new product, RISE with SAP.
Rather than create a set of new functionalities, RISE with SAP bundles existing SAP assets that focus on providing customers with business-transformation-as-a-service. RISE with SAP gets companies started with SAP's cloud solutions, accelerating cloud adoption by taking the guesswork and piecemeal license purchases out of enterprise planning: The solution revolves around six key areas of business that were identified following an analysis of customer trends and SAP products to equip customers with all the tools they need.
The next era of computing will be defined by Intelligent Enterprises and this, coupled with the customer experience, will be a major focus area for SAP and the industry as a whole.
If given a chance, what change would you like to bring in your respective industry?
I would love to see a move from the current approach where skills development is being tackled through individual CSR programs, to one where this becomes a deliberate and collaborative drive to build sustainable skills and employability on the continent.
What could be the next big change in the business industry? How is your company preparing to be a part of that change?
There are many changes underway. In fact, the pace of change is faster than ever before. People speak of the Fourth Industrial Revolution, but I see it more as an evolution as it is constantly evolving, sometimes without us even being conscious of the change.
Cloud technologies are a gamechanger. They create endless opportunities for businesses to reinvent themselves, whether it's their products, strategy, go-to-market, customer experience, or employee engagement. The speed at which cloud solutions can be rolled out drives this notion of constant improvement. Being in the ICT industry for so many years, I can see how things have changed in this regard.
IT projects used to be the realm of the CIO. They were large, complex implementations, taking years to complete and costing millions of dollars. Those deals are the exceptions now. The IT decision-makers in organisations are now the CEO, CFO, CHRO, CMO and many other business leaders. These individual business functions are the ones that need transformation, push for improvements, and understand the value of IT. They don't have millions of dollars and years to make it happen. They are facing competition from all sides and pressure to show value. These factors are driving the need for smaller projects that can be implemented in an agile way and show business value in a matter of months. Once rolled out and adopted, the next project can be tackled. And so, a series of small, incremental implementations is what is leading to large scale transformation.
This means that IT vendors and cloud companies, like SAP, must also change their ways of working. Sales managers must be industry experts and build deep and long-term relationships with customers, partnering with them on this journey. It is now about lifetime value for customers and that requires a change in operating model, but more importantly, in mindset.
SAP, which celebrates its 50th anniversary this year, understands this need for constant change. Our ability to adapt has helped us serve our valued customers for half a century. Like many times before, we are in the midst of a transformation ourselves, this time to become a global cloud leader. We have adapted our own technology and service solutions to once again help our customers grow and thrive. RISE with SAP, our business transformation-as-a-service solution, is spearheading this change. But we recognise that all our customers are at different points in their own cloud journey and digital maturity, and we can meet them where they are and help them unlock business value from our technology at every stage.
Another core change in business is the need to drive sustainability. The notion of the triple bottom line is moving from a lofty vision to an absolute necessity. Companies that focus only on profit will simply no longer thrive because the world has changed, even more rapidly since the advent of Covid. Business leaders are called on to deliver profits, while acting responsibly towards the environment, and making a social impact. The need to balance all of these priorities is creating greater complexity for business leaders.
For SAP, purpose is at our core. We understand that we have a responsibility both as an exemplar and an enabler. That means we constantly look at ways to drive sustainable practices within our own business. For example, our commitment to become carbon neutral by 2023 and our deliberate approach to including social enterprises as part of our own procurement. But we also help our customers with their own sustainability through the technologies that we build to measure and mitigate negative environmental impact.
The last change I would call out is the need for a different kind of leadership. The changes I've outlined above require strong leadership. Leaders who are only focused on profit at all costs will not thrive in this new world, nor will leaders who drive business results through fear or hierarchy. Employees have choices now. They expect more from employers than a pay cheque. They care about the culture of organisations, they care about sustainability, and they care about finding an acceptable way to integrate their work and life, aligned to the same core values. Empathy, creativity, and an ability to be adaptive are traits that every leader needs to master to navigate the uncertain waters ahead.
Where do you envision yourself to be in the long run and what are your future goals for your company?
SAP has outlined a bold goal in terms of our cloud growth by 2025. That ambition, combined with our underlying purpose of helping the world run better and improving people's lives, continues to define our future.
I have an important role to play within that. I am responsible for leading this business on one of the most exciting continents, certainly the one where technology can have a massive impact.
Whether its economic growth, equitable employment, inclusive education, or improved healthcare – IT will be the foundation for Africa to prosper. That's what motivates me each day to give of my best and to lead my team to do the same. We have a responsibility to SAP, and a responsibility to the communities in which we operate.
What would be your advice to budding entrepreneurs who aspire to venture into the Professional sector?
At SAP, we run a program called Skills for Africa. This program identifies bright young graduates who are either unemployed or underemployed and puts them through a three-month intensive training journey to become certified SAP Consultants. One of my greatest joys as MD is to attend the graduations for all these cohorts across Africa and to have an opportunity to address this bright, young talent. I always share the same message, which is my advice to entrepreneurs and, in fact, to everyone when navigating your career.
Firstly, be curious. Regardless of how junior or senior you are in an organisation, there are always new things to learn and master. If you have an attitude of curiosity, you will become a lifelong learner. Whether you read, stay up to speed with podcasts, sign up for stretch assignments or engage in continuous learning, there are many ways to constantly learn and to stay relevant in a fast-paced business environment.
Next, embrace change. That old saying about "the only constant is change" is even more relevant today. Learn to be adaptable and to embrace change for all the possibility it holds. This will help you navigate ambiguity and enable you to quickly see where you can add value in any new circumstance.
Thirdly, take care of your whole person. Work is important and it occupies a great deal of our time so find a job that you love, where you can contribute positively and where you are always learning and growing. That said, your job is only one aspect of your life. Your family, your health, your personal interests, your spiritual wellbeing – these are all parts of your whole self, and you need to take care of the whole. If you focus only on your career, other parts of your life will suffer, and you will never bring your full potential even to the workplace.
And, finally, have fun. Life is far too short to not enjoy it. Even when working at your hardest or dealing with difficulty, always look for the fun to be had.
To entrepreneurs and social enterprises specifically, I would say to focus on the whole business case. Ideas are wonderful and good ideas can change processes, industries and even the world. But a good idea needs a lot of support. Take care of all aspects of your new business – product quality, processes, people, go-to-market, finance, compliance, etc. That is the best way to nurture an idea into a thriving business.
About Cathy Smith:
Cathy was appointed Managing Director of SAP Africa in March 2018, becoming the first ever female executive of an emerging markets market unit in SAP's history.
She began her career in the insurance industry as an application developer and spent three years in the UK, consolidating her expertise. She held several executive roles for European and global markets, specialising in the outsourcing services business. In total, she has had more than 25 years' experience in the IT industry, working for major industry players like IBM and Cisco.
Cathy joined Cisco in 2015, and as Managing Director, led the company's go-to- market sales and digital transformation strategies for sub-Saharan Africa. Prior to her tenure at Cisco, she spent 23 years with IBM, where she held various leadership roles in IT service delivery, HR and sales.
Please follow and like us: