Ethnically diverse donors are on the rise, giving more blood cancer patients a second chance at life. "I strongly believe in our collective duty to care for and help one another. If we all did that, then society would be a better place," says new donor, kwazinkosi mhlongo.
South Africans are stepping forward to save the lives of those diagnosed with blood cancer by becoming blood stem cell donors. In 2022, over 21,000 new donors were recruited by DKMS Africa, nearly doubling the non-profit organisation's registry of donors available for blood stem cell transplants.
Palesa Mokomele, Head of Community Engagement and Communications at DKMS Africa, explains that the rise in donor registrations can be attributed to the efforts of the DKMS team as well as to the many South Africans who have opened their hearts to give hope to patients. "Our efforts have been bolstered by partnerships in education, healthcare, media, the public as well as patients who have told their stories so bravely in search of donors."
"A contributing factor to this growth was the 51% increase in Black, Coloured, Indian, and Asian donors – a very positive testament to the willingness of South Africans to help strangers. Previously, ethnic donors accounted for 16% of the overall DKMS registry," points out Mokomele.
Out of a population of 60,6 million, only 0.04% of the South African population is registered as blood stem cell donors. Barriers to blood stem cell transplants are numerous, with a general lack of information and awareness remaining a significant barrier.
Last year, the DKMS donor recruitment team carried out 272 drives among corporate organisations, universities and colleges around the country. "We engaged the families of patients across South Africa and brought their stories to the fore, thereby de-mystifying blood cancers and the barriers to blood stem cell transplantations," continues Mokomele.
One such South African who heeded the call is Kwazinkosi Mhlongo, a master's degree student at the University of KwaZulu-Natal. Mhlongo was recently found to be a match for a patient and made the selfless decision to donate. He registered in 2022 after seeing a social media post about another patient's plea for a donor. "I registered, received my swabs, and sent them back. It was very easy, and I wasn't sure what would happen next, but I was happy I did it," he says.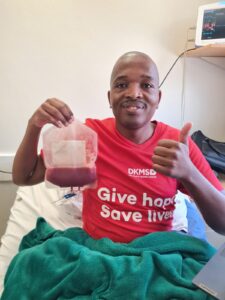 When Mhlongo got the call, he had mixed feelings; "I was scared but excited because this was my chance to save someone's life, so I said yes. I have seen cancer take the breadwinners of families and even their children. Where I come from, if you can help someone, you do it with an open heart, even if you don't have much to give."
Mokomele explains that the highest chance of a match comes from a patient's own ethnic group, meaning that Black, Coloured, Indian, and Asian patients only have a 19% chance of finding a match given that local and global registries are predominantly comprised of White donors. "Additionally, only 30% of blood cancer patients find matches within their family, with 70% relying on unrelated matches."
To widen the pool of ethnic donors, DKMS Africa also collaborates with community leaders to deliver its message and plays an active role in recruiting from among a patient's own community.
"Let's give each other one less thing to worry about by registering to become blood stem cell donors," shares Mhlongo.
"While the significant increase in donors in general and the ethnicity ratio in particular shows the strides made in 2022, it also indicates that there's still a lot of work to be done," concludes Mokomele.
Register today at https://www.dkms-africa.org/register-now .
For more information, contact DKMS Africa on 0800 12 10 82.
Please follow and like us: