On International Childhood Cancer Day (ICCD), DKMS Africa announces that Inkosi Albert Luthuli Central Hospital in Durban, KwaZulu-Natal (KZN) is the next institution to form part of its 'DKMS State Patient Support, in Partnership with Be The Match®'. This pilot programme aims to improve access to transplantation for children in need of life-saving therapy.
Palesa Mokomele, Head of Community Engagement and Communications at DKMS Africa, explains that the programme was launched during last year's ICCD with Red Cross War Memorial Children's Hospital in Cape Town and the Steve Biko Academic Hospital in Pretoria as partnering clinics. "Two non-profit organisations, DKMS and Be The Match®, have teamed up to enable eight state patients aged between 0 and 18 years in need of a blood stem cell transplant from an unrelated volunteer donor to receive life-saving treatment. So far, two children have received a stem cell transplant and three more patients are awaiting transplant. Blood stem cell transplantation is a complex procedure that requires specialised care. Thus, it is essential to work with excellent clinics and experienced paediatric oncologists."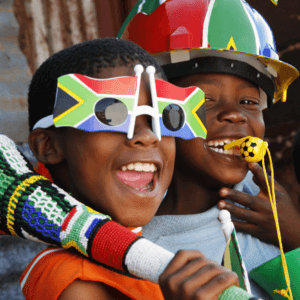 In South Africa, 1,400 children under the age of 14 were diagnosed with cancer in 2020, according to Globocan's most recent statistics, with leukaemia being the most prevalent. However, information released by Statistics South Africa reveals that the cancer incidence rate in teenagers is not well-documented in the countryi. Hodgkin and Non-Hodgkin Lymphoma, which are blood cancers, are the two leading cancers among teenagers, accounting for nearly a quarter (24%) of all the cancers with which they are diagnosedii. 
"It is now more important than ever to raise awareness about childhood cancer and to express support for children and adolescents with cancer, the survivors and their families," says Mokomele. "This is especially urgent in Sub-Saharan Africa, which is facing an under-recognised burden of cancer and substantial failures in its oncology care systems with deficiencies in care being pronounced amongst children with cancer partly due to low prioritisationiii."
Closing the care gap
When it comes to treating patients living with blood cancer, Dr Sharlene Parasnath, Head Clinical Unit of the Department of Clinical Haematology at Inkosi Albert Luthuli Central Hospital, says more often than not, their only chance of survival is a blood stem cell transplant for which they need to find a matching donor within their family. "But this only happens in 30% of cases, whereas the other 70% depend on a donation from a stranger."
"Another challenge is that the state fully covers the costs of blood stem cell transplants for patients who have found a matching donor within their family. Patients who rely on a stem cell donation from a stranger have to pay for all donor-related costs," she adds. "The programme will continue to alleviate the financial burden for state patients who can't afford these costs which are not covered by the public healthcare system."
Dr Parasnath continues to say that being diagnosed with a life-threatening blood cancer during this critical period of development has a significant impact on all aspects of an adolescent's life. "These children cannot attend school and may often miss a year or more whilst undergoing treatment. It cannot be easy for them to be left behind while their peers progress in their studies. We often see that teenagers in remission drop out of school due to lack of motivation and do not complete any form of further studies, resulting in them being unable to find employment in the job market."
Building on the progress from the past year
Highlighting the progress made since the launch of the pilot programme in the Western Cape, Mokomele stresses that 49 free searches were carried out for paediatric patients. "Matches were found for 15 patients and five applications were submitted for approval. Without this programme, these patients may have not had hope for a second chance at life."
For all South Africans wishing to play their part, she explains that they can act and inspire change by registering to become stem cell donors. "Registering is a simple three-step process. South Africans between the ages of 18 and 55 years old can visit the DKMS Africa site where they will answer a brief questionnaire to determine whether they can safely donate. Those who are eligible will be sent a swab kit to their home at no cost to them. Once received, they will need to swab the inside of their mouth and cheeks, and a courier will collect the kit within five days. The swabs will be analysed to determine their human leukocyte antigen (HLA) characteristics in order to be matched with patients who share these. Once the samples have been analysed, the donor will be added to the registry for patients searching for a donor."
"Not only are registration and donation free, but the process could give someone living with blood cancer a fighting chance against the disease. Join us by making a difference this International Childhood Cancer Day," concludes Mokomele.
Register today at https://www.dkms-africa.org/register-now .
Please follow and like us: