Five months, seven malls, one national finale. 
Gamers: get ready for the SHIFT Gaming Experience, one of the largest national gaming tournaments in South Africa brought to you by MTN and Hyprop. Taking place online and in-person at seven shopping centres across Mzansi between April and August 2023, the event is set to be far more than a mere tournament, but a gaming experience that all can enjoy. 
Hosted in partnership with Computer Mania, Gizzu and Redragon, players from across the country will contend for the chance to win their share of the R35 000 prize pool and be crowned 2023 SHIFT Gaming Experience champion.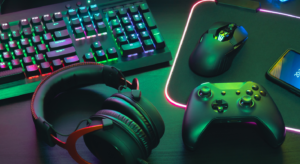 At the heart of all the action is the FIFA 23 competition where gamers will go compete in online and face-to-face qualifying rounds. The online heats will precede those taking place at shopping malls across Gauteng and the Western Cape, with each mall hosting elimination rounds on the Friday or Saturday and a finale on the Sunday of their particular leg of the tournament.
The 28 victors that emerge from these heats, as well as the four top players in the online matches affiliated with the specific mall, will face off for a gift card valued at R2 500 and a chance to progress to the national finale going down at Canal Walk in Cape Town from 25 to 27 August 2023.
National preliminaries will take place across the country, and everyone is invited. The participating shopping malls are as follows: 
Somerset Mall (Western Cape):  
Online qualifier: 16 April  
In-centre event: 21-23 April 
Rosebank Mall (Gauteng) 
Online qualifier: 7 May  
In-centre event: 12-14 May 
Woodlands Boulevard Shopping Complex(Gauteng) 
Online qualifier: 21 May  
In-centre event: 26 -28 May 
The Glen Shopping Centre (Gauteng) 
Online qualifier: 25 June  
In-centre event: 30 June – 2 July 
Clearwater Mall (Gauteng) 
Online qualifier: 9 July  
In-centre event: 14 – 16 July 
Capegate Mall (Western Cape) 
Online qualifier: 23 July  
In-centre event: 28 – 30 July 
Canal Walk (Western Cape) 
Online qualifier: 13 August  
In-centre event: 23 – 27 August 
Apart from the nail-biting FIFA 23 action, all seven malls will also host side competitions ranging from F1 and Fortnite, to fighting games and Minecraft Legends where gift cards and spot prizes will be up for grabs for the winners and runners-up. Spectators and players can also try their hand at games like Rocket League, Brawlhalla and Multiversus. Plus, they can experience MTN Arena, the country's first cloud gaming platform; and participate in a keyboard rebuild race for the chance to win a keyboard. What's more, there will be giveaways at each in-centre event.
At the national finale, the seven finalists will battle it out to see who will be crowned the greatest gamer in SA. Over and above the R20 000 grand prize for the FIFA 23 winner and the R10 000 and R5 000 prizes for the first and second runners up, another R60 000 prize pool will be there for the taking in the Call of Duty tournament that will run concurrently at the final.
"Together with our partners, it's time we bring our rainbow nation together and provide them with an opportunity to do more than just shop," says Hyprop Brand and Campaigns Marketing Manager, Christie Stanbridge, who notes that creating spaces and connecting people lies at the company's core, which is why supporting gaming in SA is a natural (and fun) extension for the brand.
"We are thrilled to partner with Hyprop to bring this exciting gaming experience to our customers," adds Jason Probert, General Manager: Digital Services at MTN South Africa. "In line with our promise to deliver bold digital solutions for Africa, this partnership is another way we are demonstrating our commitment in providing experiences using our digital services and our best network connectivity. We encourage our customers to visit our activations in these shopping malls to experience an esports gaming tournament that they have never seen before."
For more information about the SHIFT Gaming Experience, brought to you by MTN and Hyprop, or to sign up as a participant, go to https://acgl.gg/shift. All tournaments operated by ACGL.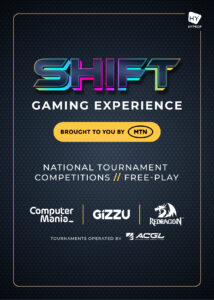 Please follow and like us: