Twenty-one-year-old University of Cape Town student, Siphosethu Vumisa, attended a workshop with the Jaay Blacks Youth Foundation and DKMS Africa, which inspired her to register. "I've always wanted to make a difference in my community, which is why I chose to study a Bachelor of Arts, majoring in Film and Media and African Studies.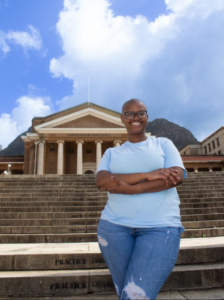 "Growing up, I wasn't exposed to drama and when I learnt that television shows were acted out, I wanted to learn how to act. I now prefer being behind the camera, but ultimately, I hope that my studies will benefit my community by exposing them to something new and giving children the information and resources necessary to also pursue careers in TV," she adds.
The same exposure is needed when it comes to blood stem cell donation and blood disorders, explains Vumisa. "More awareness needs to be raised, as, for example, I didn't know about blood cancer until we had the workshop with the Youth Foundation. I would love for more people to know about this so that a lot more lives can be saved."
Registering to be a donor is as easy as 123
Palesa Mokomele, Head of Community Engagement and Communications at DKMS Africa says that South Africans aged between 17 and 55 years who are in good general health can register to become a donor. "You will need to answer a brief questionnaire to determine whether you can safely donate. If you are eligible, a courier will deliver a swab kit to your home at no cost to you."
When you receive the kit, swab the inside of your mouth and cheeks, and a courier will collect the kit from you within five days. The swabs will be analysed to determine your human leukocyte antigens (HLA) characteristics. "The closer a donor's HLA characteristics match those of the patient, the better. Once we have analysed your samples, you will be added to the registry, and you will be available for patients searching for a donor," says Mokomele.
If you do come up as a potential match for someone, the donation process can begin. "You will be asked to provide a blood sample which will go for confirmatory typing. Your regular GP will be able to take the sample. Your blood will also be checked for other infections such as HIV or hepatitis viruses.
The results of your blood tests will be used to decide whether you really are the best match for the patient."
Once you've been matched
Mokomele outlines that a transplant is a non-invasive procedure where a medical practitioner will draw blood from the donor's arm. "The blood collected is circulated through a machine that then separates the blood stem cells from the blood. The remaining blood components are then returned back to the donor via their other arm. Those donating blood through this method will need to take time off work or from their studies for their medical examination, plus another two days for the blood stem cell collection."
"Those donating via the bone marrow collection method, which entails a needle being inserted through the bone and into the bone marrow to withdraw the liquid portion of the bone marrow, will need to take one week of leave. This will cover the donor's three days in the hospital plus a four-day recovery period," she adds.
When Vumisa received the call letting her know that she was a match she didn't expect it. "I was a bit overwhelmed but happy to proceed with saving a life. The process happened quickly, and I was awed by the fact that I didn't feel the long needle going inside my leg. With my family calling and the assistance of the nurse and DKMS, I felt taken care of and good about myself. I didn't have any side effects."
Saving a life is the best thing you can do
"It's a few hours of your day and trust me, you live with the goodness of that your whole life," says Vumisa. "What if it was one of your family members that needed help?'"
She believes that everyone deserves a second chance at life. "When there's an opportunity to do this, we must grab it! No matter how much pain I would have had to go through, saving a life mattered the most."
With a final message to her match, Vumisa says that she is so happy she was able to give them another chance because they deserve it. "You're amazing and a superstar!"
Feeling inspired? If you are between the ages of 17-55 years old and in general good health, please register to become a blood stem cell donor via https://www.dkms-africa.org/register-now. Registration is completely free and takes less than five minutes to complete.
For more information, contact DKMS Africa on 0800 12 10 82.
Please follow and like us: