In light of Youth Month, influential voices are advocating for this cause. Dla, from the hip-hop crew Driemanskap, believes that young people have the potential to make a significant impact on the world. "By teaching them about blood stem cell donation, we can increase the number of potential donors which could lead to more successful matches and better outcomes for patients in need."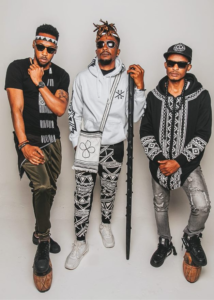 Palesa Mokomele, Head of Community Engagement and Communications at DKMS Africa, a non-profit organisation dedicated to fighting blood disorders and blood cancer, agrees. "The earlier we start raising awareness and encouraging young people to become donors, the more lives we could potentially save down the line."
With misconceptions and myths surrounding blood stem cell donation possibly preventing more young people from becoming donors, Ma-B (Sonwabo Kambi) from Driemanskap highlights the need for education. He points out that a study has revealed most university students lack basic knowledge about the donation process, which may be one of the factors deterring registrations.
To put the minds of SA's youth at ease, Mokomele explains the blood stem cell donation process. "In over 90% of cases, it entails just a little more than a blood donation. Stem cells are typically collected from the bloodstream without the need for hospitalisation or anesthesia. The process involves using a sterile needle to collect stem cells from a vein in each arm. The blood is drawn through one vein, passed through a machine to save the stem cells, and then returned to the body through the other arm. This is usually completed within four to six hours." 
She adds that in about 2% of cases, bone marrow collection may be necessary, requiring anesthesia and a three-day hospital stay. "Donors may experience mild pain as two small cuts are made at the back of the pelvic bone, but it is comparable to bruising." 
When it comes to why blood stem cells from younger donors are preferred, Mokomele explains that as we age, our bodies experience low-level inflammation, making us more prone to health conditions. "Inflamed blood stem cells lose their regenerative ability, produce fewer lymphocytes crucial for the immune system, and may be affected by clonal haematopoiesis—a mutation increasing the risk for blood cancers. That's why individuals between the ages of 17 and 35 are the most desirable donors."
Luyanda Stuurman, a registered blood stem cell donor and second-year medical student at the University of Cape Town, urges more young people to consider becoming donors. "Donating blood stem cells is a life-saving gift. We can all play a role in giving someone in need a second chance to live their life to the fullest."
If you're between the ages of 17 and 55 and in general good health, you can register to become a blood stem cell donor at https://www.dkms-africa.org/register-now.
For more information, contact DKMS Africa on 0800 12 10 82.
Please follow and like us: