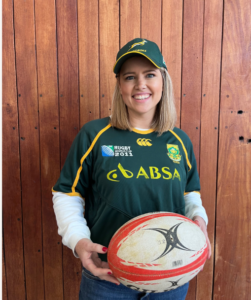 Between now and 28 October, rugby teams from around the globe will be facing off at the 2023 Rugby World Cup in France. But the pressure is on full blast for South Africa: The Springboks are not only defending their 2019 championship title but also gunning to outdo New Zealand with the most World Cup wins.
"With Siya Kolisi crediting the support of fans for our 2019 win, it's time for South Africans to unite and show the world that we're #StrongerTogether!," says Laurian Venter, a proud Bok supporter and the Sales Director at OneDayOnly.co.za.
With the passion for the game flowing through his/her veins, Venter shares some practical tips to elevate your rugby-watching experience:
Keep calm and cheer on: When the ref makes a questionable call, stay cool as a cucumber with CBD powder sachets. You'll be as zen as a Durbanite in no time!
Power to the people: Picture this, it's the last minute of the nail-biting match between South Africa and Ireland – this year's top ranked team – when suddenly the power goes out. Instead of cursing in all 12 official languages, perhaps prevent this by plugging the TV into a portable power station.
Snack attack: The more nerve-wracking the game, the more likely you are to stress eat. Make sure you have all your favs handy – you won't want to move from your spot.
Stay hydrated: Supporting is thirsty work, so regardless of whether you're at home, a friend or the stadium itself, you'll want to keep a cold beverage close by (and have easy access to those above-mentioned snacks).
Braai like a boss: Rugby and braais are a match made in heaven. Get ready with all the essential gear or go all-in with a braai toolbox complete with an axe (for dramatic effect).
Private cinema style: Turn your lounge into a movie theatre with a laser projector and watch all the action unfold on the big screen.
Go green and gold: Dress for success by donning some green and gold. You could even go the extra mile with some Springbok-inspired attire.
Snuggle time: Keep warm during late night matches with an electric throw-over blanket. It'll heat up faster than a scrum!
Claim your throne: It's going to be a long few weeks, so best you get yourself a comfy seat. Whether it's a bean bag, couch or gaming chair – make sure the family knows that this is YOUR Rugby World Cup spot.
Go Bok wild: Above all, let your team spirit soar. Sing the anthems, blow your vuvuzela, and back the Boks with all your heart!
"Let's bring the trophy home for a fourth time, together!" concludes Venter.
Please follow and like us: