It feels like just yesterday we were making New Year's resolutions, and now, the festive season is sneaking up on us once again. Blink, and you might just miss the 'most wonderful time of the year,' leaving you frantically wandering the aisles of your local garage shop in search of last-minute gifts come Christmas Day.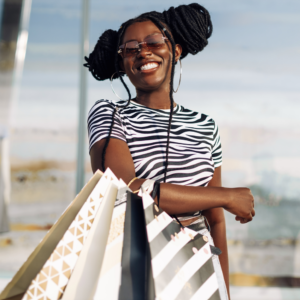 To avoid this situation AND make you more popular than Father Christmas (no silly red suit required), South Africa's original daily deals site, OneDayOnly.co.za, has compiled a handy gift guide with its top 10 picks that won't break the bank. From gadgets to groceries, the site features new deals and discounts every day but for 24 hours only​​​​.
The fountain of youth in a bottle: Help your loved ones stay forever young with collagen products from The Harvest Table. Saying 'girl, bye' to wrinkles and joint pain is as easy as sipping on their morning coffee. Plus, they could get radiant skin, healthy hair, and nails that double as lethal weapons in the same sip.
New fit, who dis?: If your grandpa, dad, uncle, boyfriend or brother is in need of a style upgrade, Pringle of Scotland is the solution. From bomber jackets and jerseys to golf shirts, there's something to elevate their look.
No nightmare before Christmas: Imagine waking up on Christmas morning to no tree. Make sure you have somewhere to put all the presents with an artificial pine tree. Add some ornaments while you're at it too – a bare Christmas tree is just plain weird.
The tree isn't the only thing getting lit: Get the fam into the festive spirit with some spirits, wine, beers or other adult beverages to celebrate year-end.
Empower the air fryerless: Don't look down on your friends who don't have air fryers, get them one! That way they can brag about theirs too (just like you). After all, it's the ultimate sign of adulting.
The gift that keeps on giving: Even the grumpiest of Grinches will crack a smile when they receive a Hisense Smart TV. More than just a TV, it's the gateway to a world of enhanced entertainment magic with vibrant colours, super sharp resolution and a cocoon of sound. Ho-ho-Hisense!
Beat the Janu-worry blues: To help your loved ones cope with the financial fallout of the festive season, why not stock them up with some everyday essentials like toilet paper, toothpaste and, most importantly, coffee.
Don't forget the favourite family member: Pets are often overlooked when it comes to gift giving so they're bound to be grateful for some extra treats. Bribery is the best way of ensuring they don't attack the Christmas tree or eat the leftover wrapping paper.
The mother load: With load shedding sticking around for the next few months or years (depending on who you talk to), a power station might be an option for keeping appliances from the TV and dishwasher to the chainsaw running.
​​​​​Share the love: Pledge a Virtual Santa Shoebox on your loved one's behalf to a child in need. With just one click, you can bring a smile to someone who might otherwise have gone without a gift this festive season.
Please follow and like us: