SA's largest pre-owned luxury site sells its most expensive bag ever
With a price tag of R280 000, Luxity has just sold the most expensive handbag in South Africa – a pre-owned Hermès Fjord Leather Birkin 35 in black. A new bag can only be obtained by a select group of VIP customers handpicked by Hermès.
The country's largest pre-owned and authenticated luxury reseller has also just listed a Hermès Swift Leather Kelly Pochette Étoupe with an asking price of R250 000.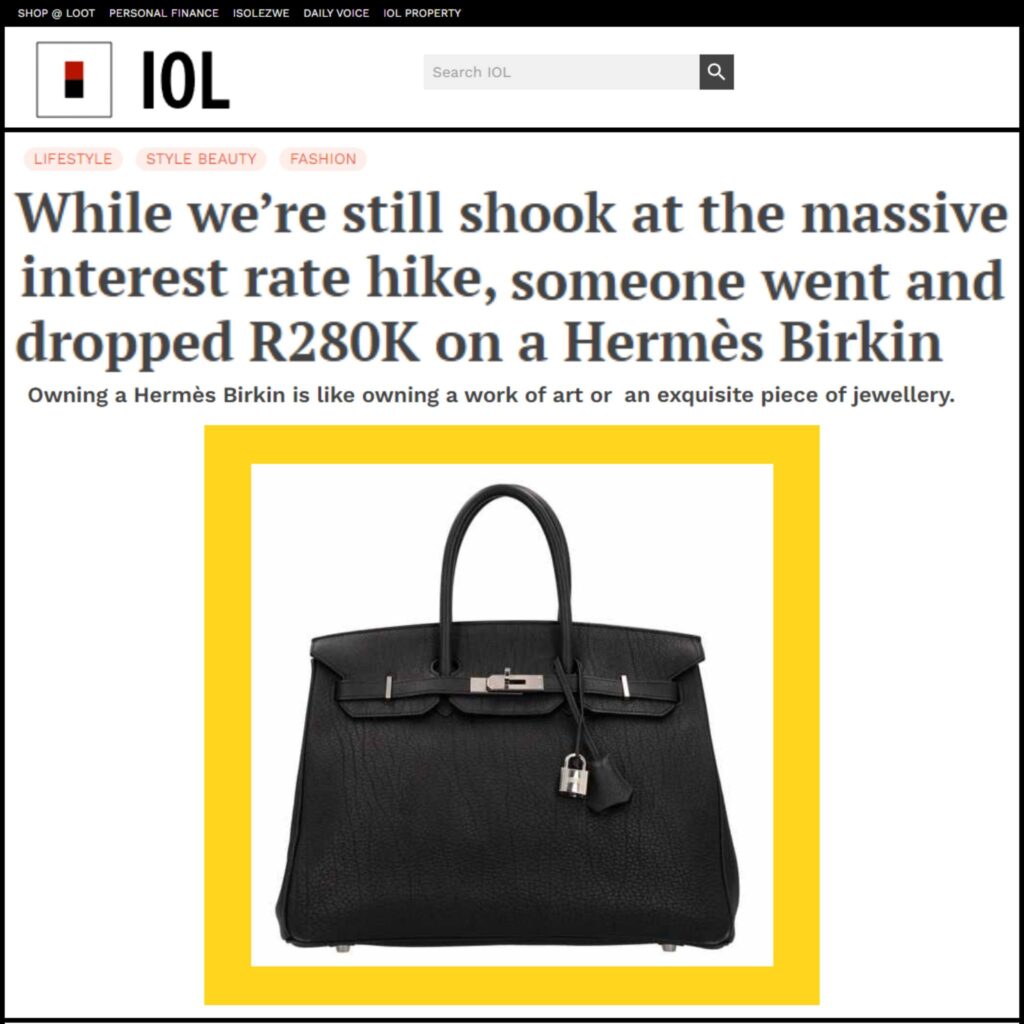 About the bags
The Hermès Fjord Leather Birkin 35 is crafted from durable fjord leather and features rolled leather top handles, a cross-over flap and a strap closure with palladium silver clasps and a palladium silver turn lock along with a hanging clochette with keys for the padlock. Birkin bags are notoriously hard to find, which contributes both to their desirability and cost. It is rumoured that not only must these bags be purchased from one of the Hermès boutiques around the world, but they are only sold to customers who are deemed to be important enough or who spend enough. Even then, their choice of colour and size is limited.
The Hermès Swift Leather Kelly Pochette Étoupe is the petite version of one of the world's most sought-after handbags, the Kelly bag, which has waiting lists stretching up to six years. Crafted from smooth and supple swift leather with contrasting white stitching, the bag features a leather handle, flap and strap closure with a palladium silver turn lock. Matching matte leather and a flat pocket can be found on the interior. Despite its massive price, the clutch is only 22.5 cm in height and 13.5 cm in width, meaning that it can only accommodate the minimum – a pen, phone, car key or compact at most.
According to auction house Sotheby's, the bag is extremely valuable thanks to its rarity. Christies has also said that, in recent years, petite handbags have become the most collectible handbags on the secondary market and the Kelly Pochette is a favourite with Hermès collectors.
The Birkin's backstory
The invention of the Birkin bag is the result of the chance meeting in 1983 between actress Jane Birkin and Jean-Louis Dumas, the then creative director of Hermès. The two were seated next to each other on an international flight when the contents spilled out of Birkin's straw bag. Birkin complained to Dumas that it was impossible to find a leather weekend bag she liked. Dumas introduced himself and the pair spent the flight sketching possible handbag designs on the back of an aeroplane sick bag. A year later, Dumas presented her with the Birkin bag, a spacious yet sophisticated leather design perfect for everyday use.
Soon, the bag became a coveted accessory, and it has been reported that the value of these bags has increased by 560% over the past 35 years, equating to a 16% rise per year. Black Birkins are particularly valuable, increasing in value by an average of 18% annually.
A brief history of the Kelly bag
Dubbed the Birkin's older sister, the handbag's origins date back to 1852 with the launch of the Haut à Courroies (HAC) bag which was used to protect and transport saddles and riding boots. In the 1930s, it was reinterpreted as a luxury handbag, the Sac à Dépêches, by Robert Dumas who designed its signature trapezoid shape with two triangular gussets, a cut-out flap, a handle and two side straps. It is constructed from 36 pieces of leather and 680 stitches by a single artisan over the course of 18 to 24 hours.
The bag gained instant international fame when Grace Kelly reportedly used it to conceal the early signs of her pregnancy from paparazzi. In 1977, Hermès renamed the bag the 'Kelly' as a nod to the actress-turned-princess.
Since its original release, the Kelly has taken on a number of new forms. In 2020, a version of the bag, the Hermès Kelly Rose Gold, which is made from 1,600 diamonds and genuine rose gold moulded to resemble crocodile leather, sold for R34 million.
South Africans' appetite for luxury on the rise
Last year, Luxity sold a Hermès Togo Birkin bag for R220,000 within two minutes of being listed. Since 2016, Luxity has sold four Birkin bags and is the only store in South Africa that buys and sells authentic Hermès Birkin bags.
Luxity co-founder Michael Zahariev says that this shows there is growing demand for luxury among South Africans, driven largely by the country's aspiring middle class. He attributes the speedy sale of the Hermès Fjord Leather Birkin Bag, as well as other high-ticket items, to this market segment now having increased access, whereas before they were out of reach both from an accessibility and a cost perspective.
Later this year, Luxity will be releasing its State of Luxury Report which will provide more details on the sector. For more information, go to https://luxity.co.za.
Please follow and like us: